Electronic Measuring Tool
Regular price
Sale price
$31.99 USD
Unit price
per
Sale
Sold out
【Up to 10 practical functions】 Such as straight line measurement, round measurement, arbitrary curve measurement, irregular surface measurement, cylindrical diameter measurement, accumulation/subtraction of 10 historical records, measurement prompt sound, measurement breathing light , Unit switching, etc.; easily cover your various measurement needs.

【99m Ultra-long Distance Measurement】 A single 0-99m practical distance measurement, and a maximum of 99 meters (automatic accumulation) ultra-long distance measurement.

【Measuring Data】Millimeter-level precision measurement data can be automatically accumulated and subtracted, and 10 groups of historical records can be called at any time, which is convenient and practical.

【Lightweight & Portable】15mm in thickness, and 30g in weight. It is only 1/3 the size of an ordinary tape measure and 1/4 the weight, which is convenient for you to carry and measure at any time.

【High-tech Microprocessor】 Adopts ultra-low power consumption microprocessor to achieve ultra-long standby and battery life.【Size】D53*T15mm (2.09 X 0.59 INCH )
MEASURE ANYTHING THAT YOU WANT!
                                  LIGHTWEIGHT AND PORTABLE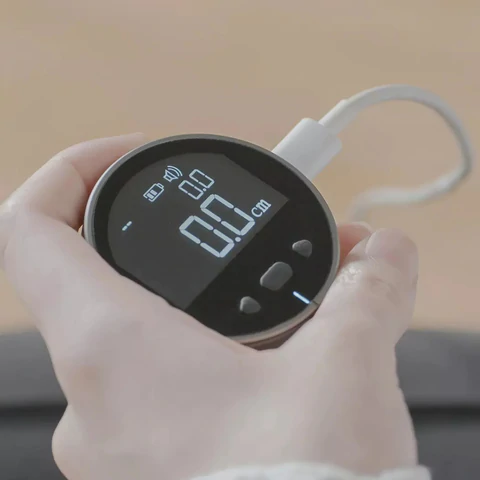 ACCURATE AND RELIABLE WITH 1000 OF SEMI-CONDUCTORS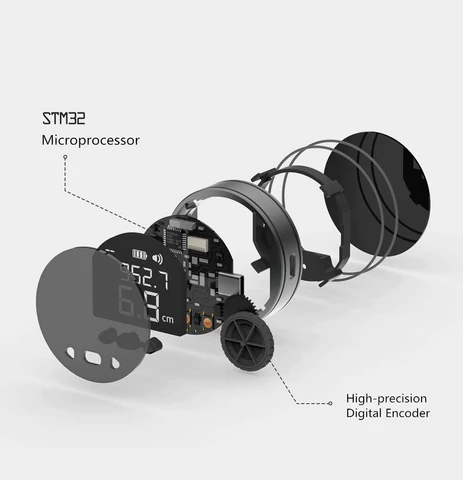 CAN MEASURE VARIOUS SURFACES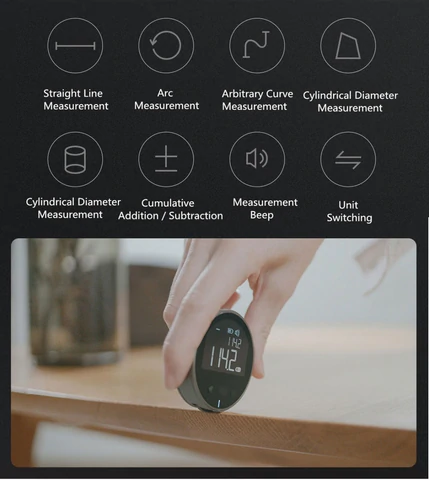 FAQ

Question:Are the units of measurement selectable?
Answer:Hi,With the electronic tape measure off press and hold down the on /off button. Continue holding the button down until you see the word "boot" in the upper right hand corner of your screen. With the word "boot" displayed you can now press the right arrow button to change the measuring units from cm \ in.
Once your done you can press the on/off button again to navigate the tape measures other features , sound on/ off etc. Hope this helps, good luck.

Question:Does it have memory or will it display the the last measurement when turned on?
Answer:When turned on it reads zero. But it stores the last 8 values (at least) that were measured. They are accessible using the left or right arrow buttons......

Question:In a windowsill, like in the product video; can you really get an exact measurement with both the measuring wheel and the device itself being round?
Answer:You can't measure a radius smaller than the radius of the device itself, so obviously not to a corner in a windowsill. If you used a piece of tape to extend the corner out onto the flat of the sill, you could accurately measure to that.....

Question:Can it measure in inches?
Answer:Yes, its unit of measurement can be set to centimeters or inches.
 
Share
Tracking Number available upon ordering!